21 August 2022
TAKE A WALK DOWN SINGAPORE TOWN: STREETS WITH VIBRANT ART SCENES
TAKE A WALK DOWN SINGAPORE TOWN: STREETS WITH VIBRANT ART SCENES
As a city in a lush forest, Singapore is filled with many exciting visuals. With many hidden gems just around the corner, you've never really known Singapore till you have truly explored it. Let's enhance your visual senses with the bright funky murals donning these streets.
CHINATOWN
Chinatown is a lovely heritage site that pays homage to the traditional Chinese scene. Today, its precinct is a blend of the old and new, with historic temples and traditional shophouses juxtaposed amidst the modern cityscapes. Keeping the old alive, Yip Yew Chong paints murals of everyday life experiences in the past, telling stories of people and places of yesteryears.
Dreams of Chinatown depicts a wet market scene that pays tribute to the old Chinatown Yew Chong has grown up in, inspired by his memories from the 70's.
This mural is Yew Chong's most intimate mural ever painted. Titled My Chinatown Home, this mural captures a scene from his memory of his very first home in Sago Lane, Chinatown. Each composition was a reflection of his fond memories of being in that home. His works are also interactive, allowing you to transport yourself to the past.
LITTLE INDIA
Little India is a vibrant town that plays an important place for the local Indian community to eat, shop, socialize and pray. The vibrant district is enclaved by temples, mosques, shophouses, and plenty of street art! Take a walk down memory lane with this mural by Psyfool, depicting Traditional Trades of Little India.
 Twirl around the corner and be immersed in this work by Didier Mathieu (Jaba), inspired by Kathaka - a classical Indian dance. The bright palette and strong brushstrokes will get you dancing along to their beat.
Also reflecting the traditions and culture of the place, Daily Delivery by Jaba showcases the traditional tiffin business where food is kept and sold in stacked metal containers, or what we know as "Tingkat".
KAMPONG GLAM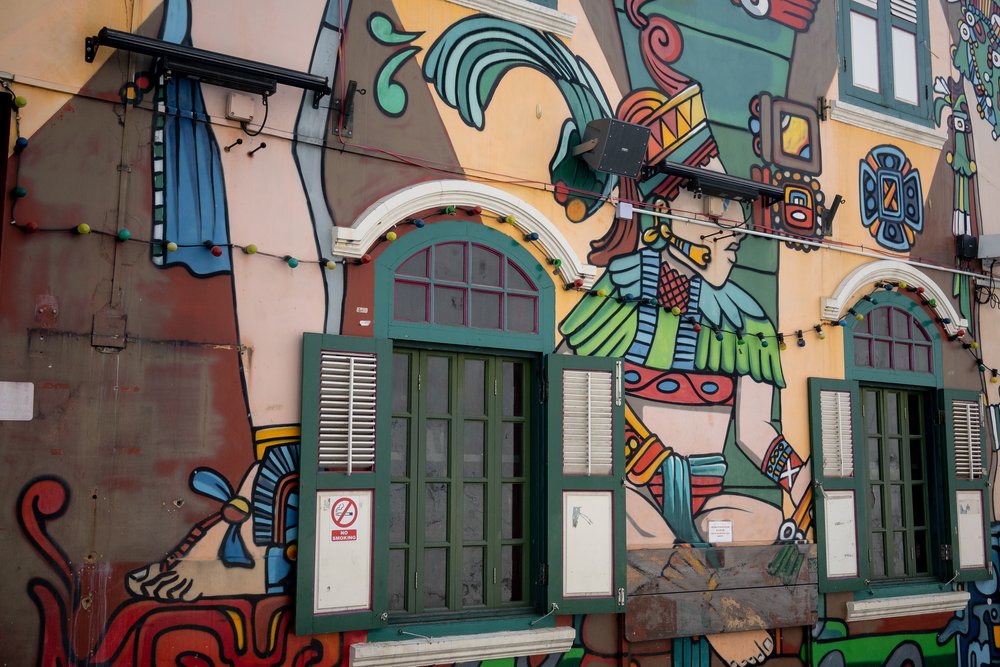 Last but not least, Kampong Glam is the third heritage site on our list, sometimes known as Singapore's Muslim Quarter. The first-ever outdoor art gallery, Gelam Gallery is hosted here in the back lanes, filled with a wide range of local and international street art.
Have fun reminiscing the past with this work by Amir Andhar. This artwork intends to refresh old and sweet memories about this nostalgic game of marbles - a traditional favourite pastime among children in the past.
Be mesmerized by the lovely Mandala Art by Bianca Goetz. Mandalas are a symbol of an ideal form, representing wholeness through a seemingly endless repetition of patterns. Seen in almost all aspects of life, it is a reminder to us how everything is connected, a circle of life.
Spotted any of these gems? Explore our vibrant city and stunning public art scene today!
Photo credits: Theadmin.sg
---