A Work of Communication, Collaboration and Dedication
Last week, Fiidaa Art had the opportunity to pay a visit to one of our artists, Yeo Siak Goon. Siak Goon and Fiidaa Art recently completed a major collaborative project with DBS Private Bank. As one of the most significant paintings of his career, with a dimension of W300 cm x H240 cm, the art was a huge success and is placed magnificently at DBS Private Bank's lobby. We believe that Yeo Siak Goon has created a piece of history with this painting.
Conceptualizing the Vision
DBS Private Bank consulted us to curate a collection of art that is aimed to enhance their Asian heritage and is a representation of their Asian presence. We took inspirations from their strive for continuous innovation and dedication to promoting sustainability; the art pieces commissioned were to mark a new era of modernity. It is a celebration of nature with a distinctly Asian aesthetic.
Commissioning the Artwork
Siak Goon has had a long history of representing the landscape of Singapore. Since arriving here at the age of 14, he would spend any extra time he had in painting and practicing his craft - an embodiment of the strive for continued innovation and dedication. Moving from his tropical landscapes, he now takes particular interest in understanding and depicting cultural landmarks and how their perception changes over time and space.
His unique style fuses different spatial perspectives and time, giving a complete interpretation of landscapes in his artwork. Siak Goon was an ideal choice for us as we believed that he would be able to depict both DBS' vision and Singapore's evolution over time towards progress.
Gestation of Idea
With "Garden City of Glory," Siak Goon aims to illustrate the rich history of Singapore and how the country will continue to progress in the future. He uses the Cavenagh Bridge as a symbol of Singapore's long history of being under British colonial rule. Furthermore, the bridge reminds Siak Goon of all the times he spent painting by the Singapore River as a young man.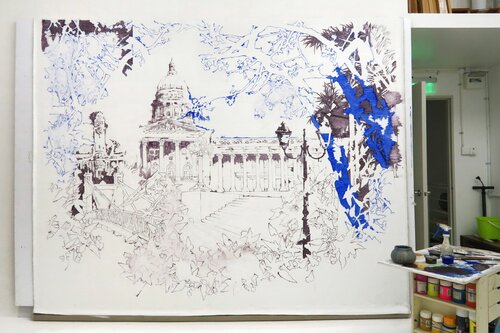 Initial Sketch Showing Work in Progress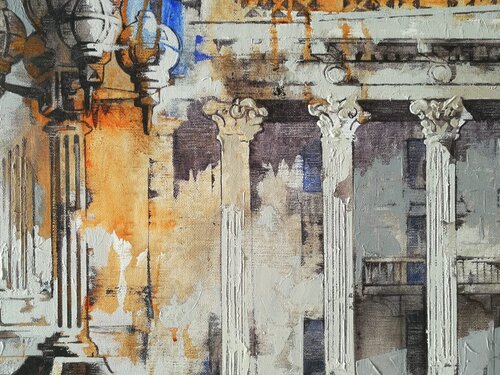 Incorporating Different Times, Perspectives and Textures, bringing life to the painting.
Creative Process, Dedication and Commitment
Siak Goon is very meticulous when it comes to his research before starting a project. To create this painting, he visited various sites such as the Supreme Court and Cavenagh Bridge multiple times at different points of the day to get a thematic understanding of the landmarks. He also took hundreds of photos from various angles, and read into archives and historical accounts. He then incorporated all the various details and perspectives from his extensive research into finessing his painting.
Garden City of Glory
Inspired by the Morning Glory, which signifies the manifestation of a bright future, Yeo Siak Goon explores Singapore's history, looking beyond its facade to uncover the different ways Singapore has continuously transformed to provide better lives for the years to come.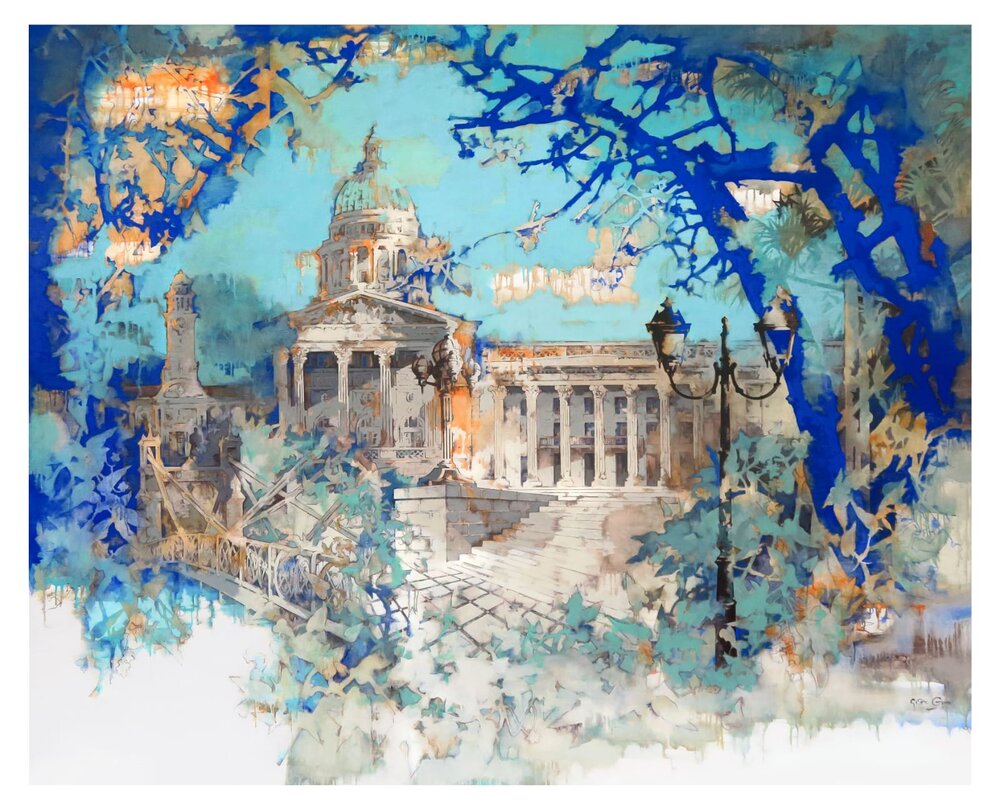 From the Supreme Court to the Old City Hall, Yeo Siak Goon weaves his personal experiences and the country's colonial history to convey the ways that the present constantly reinterprets the past.
The Garden City of Glory portrays Yeo Siak Goon's affinity for nature, conveyed through his signature style in this painting.
The Visit
We had a long, casual chat with Siak Goon and it was impressive that his studio was orderly, neat and clean, with a lot of positive energy around the room. With ample natural light, his studio is well illuminated to enhance the beautiful blend of colors in his works. His studio stores a collection of his past works, some of which have won international awards!
Ps: Siak Goon also gave us a gift; a blue-jeans converse shoes drawn with his signature caricature!
Thank you Yeo Siak Goon for hosting us in the studio, including the refreshing long afternoon chat. Fiidaa Art is honored to work with you!
---